"INCIDENTALLY", Nick said to me, catching my attention when we were sitting at home, celebrating my wife´s birthday. "On friday we plan to climb the Rietzer Grieskogel"
The meaningful grin in his face showed me that he allready knew he got me....
Some time ago, when he showed me a sunset picture he made from this mountain-top i spoke with him about it, and how i would like to stand on top of it some time. Its a "Hausberg" for me, which means its one summit i see every day when i look out of the window. So i thought how i could get myself free for the afternoon and night on friday the 26th august. The other thing is that i allready planned a short milkyway-quicky with my friends Chris and Mario, the night before... AND i was ill recently so the question was: Can i do it anyway?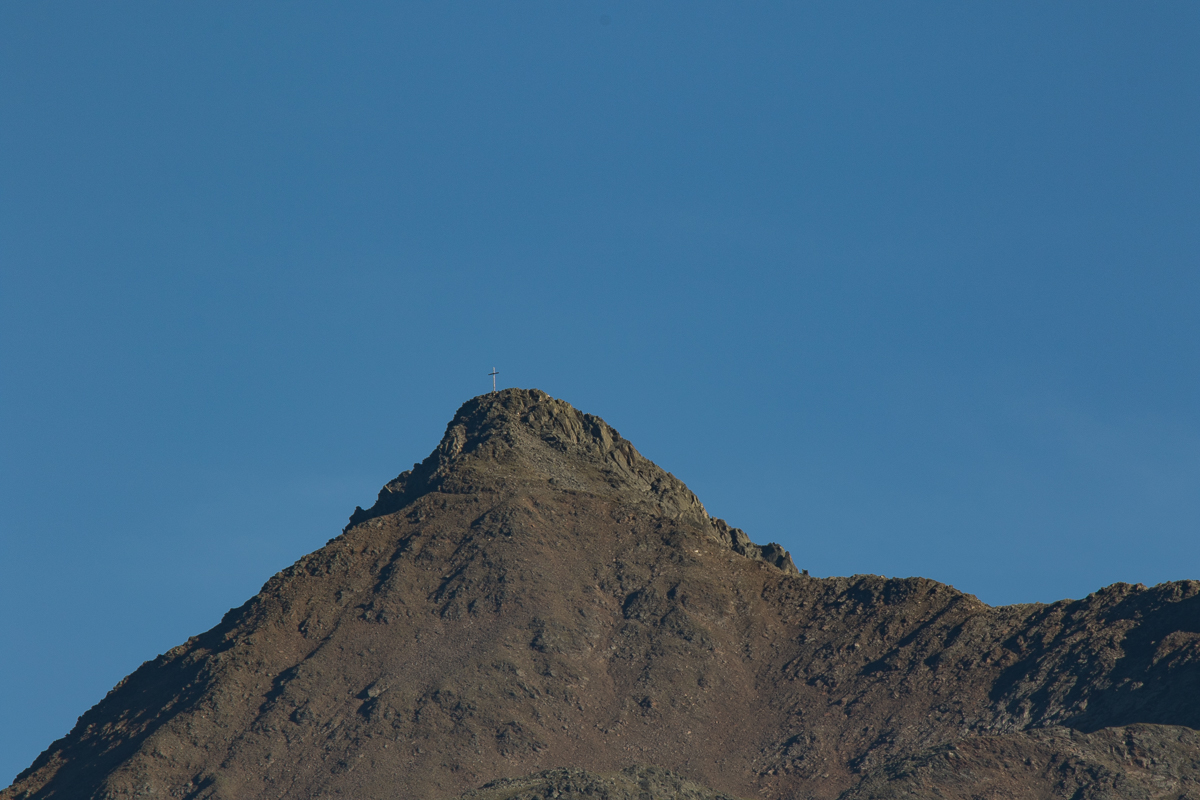 As always, my solution was easy. I wanted to do BOTH! I felt OK on Thursday so i told Chris and Mario that i will be with them. It was a short tour so i thought i´ll have a look how i feel there and then decide what to do the next day. 1000 height meters are quite a challenge for me anyway. Problems with my back and my recent illness left me sceptical...
The tour to the "Rusty Spider" was very successfull concerning photography AND my stamina. In fact, i left my two companions far behind me. Seems the long lasting diet and training were good for something. Also i decided to carry REALLY few gear with me this time. My friends know how hard this is for me....
So i met Tina in our chat and told her in the morning that i will be with them in the afternoon.
At about half past four they picked me up at my place an we were on our way. About 1 hour driving later we arrived our starting point. Good for us and our later pictures: There was nobody to see, no cars, nothing. Seemed we would be alone tonight. GREAT! Dania and Zappa, the two absolutely LOVELY dogs of Nick and Tina were with us this time and almost freaked out because they new we would start soon.
We made us ready and this time i thought i could take some pictures of our ascension. So i put on my cotton carrier, a camera vest, to have my cam always ready. I decided to only use my 50mm f/1.2 because its small and i love these pictures taken with the aperture wide open.
The hike started with a nice forest road, a little downwards, before it slowly began to ascend.
Not long after we started we met a "Kreuzotter", a poisonous snake that is indigenous here in tyrol. Nick saw it in the middle of the road, when the dogs allready ran over it. Fortunately it didn´t bite. I took some quick shots of it and left her alone. We were shocked a bit, and had our eyes more on the earth from then on.
After a while the road ended and changed to a smaller trail, next to a nice creek. We met two shepherds on the way, coming down the mountain. One of them was a little curious what we were going to do so late so he asked us where we wanted to go. "Hunting stars" was the answer. The expression on his face told me that he probably thought we were crazy :-)
I stopped now and then to take some shots of the mood of this nice hike. There was a lot of water coming down the mountain. Good for the dogs. They were very thirsty because it was such a hot day. After about 1,5 hours we made a rest, because of the heat and the backpacks began to feel heavy a little. Now we were able to see the cross of our target in the distance; quite some way to go....
So we went on, through cattle-herds, with brown, grey, spotted and black and white cattles, and some highlanders too. I like them so much because of their long hair and the impressive horns.
In the distance we saw some sheep too, and allready heard their bells. While crossing a very wet zone, suddenly there was a loud whisteling echoing from all sides. The marmots, whose burrows we saw over and over on our way, noticed us, and naturally our dogs too. So the alarm could begin :-)
Dania and Zappa instantly answerd with wild snivelling and pulling on their leashes. The hunting-dog genes were undeniable. I saw some of the marmots fairly near but since i had no telephoto lens with me it just was not worth it. So i contented myself with looking at these nice little guys. But we had to move on, the sunset would not wait for us....
The hardest part began now. The trail became steep and winded up in serpentines, through sheep-herds and loose rocks. The dogs pulled because of the lots of animals and Nick and Tina had to work hard to keep them calm. Nobody talked anymore, everybody concentrated on his own breathing rythm. We went higher and higher, and i was wondering why we were moving away from the cross, which we had in front of us the whole time now. But nick and Tina had been there already so they would know the way.
A little bit later i saw why. The trail resulted on a saddle, where it made a hard turn to the right and lead directly to the summit over a long ridge.
We made our second rest here, what i appreciated very much. Nick prepared to do some drone-footage, i made some nice pics too and Tina took care of the dogs who had a small meal and lots of water.
Nick told us about his plans with the drone and so i decided to just move on to the summit by myself, so he could take some airials and videos of me and Tina on the ridge.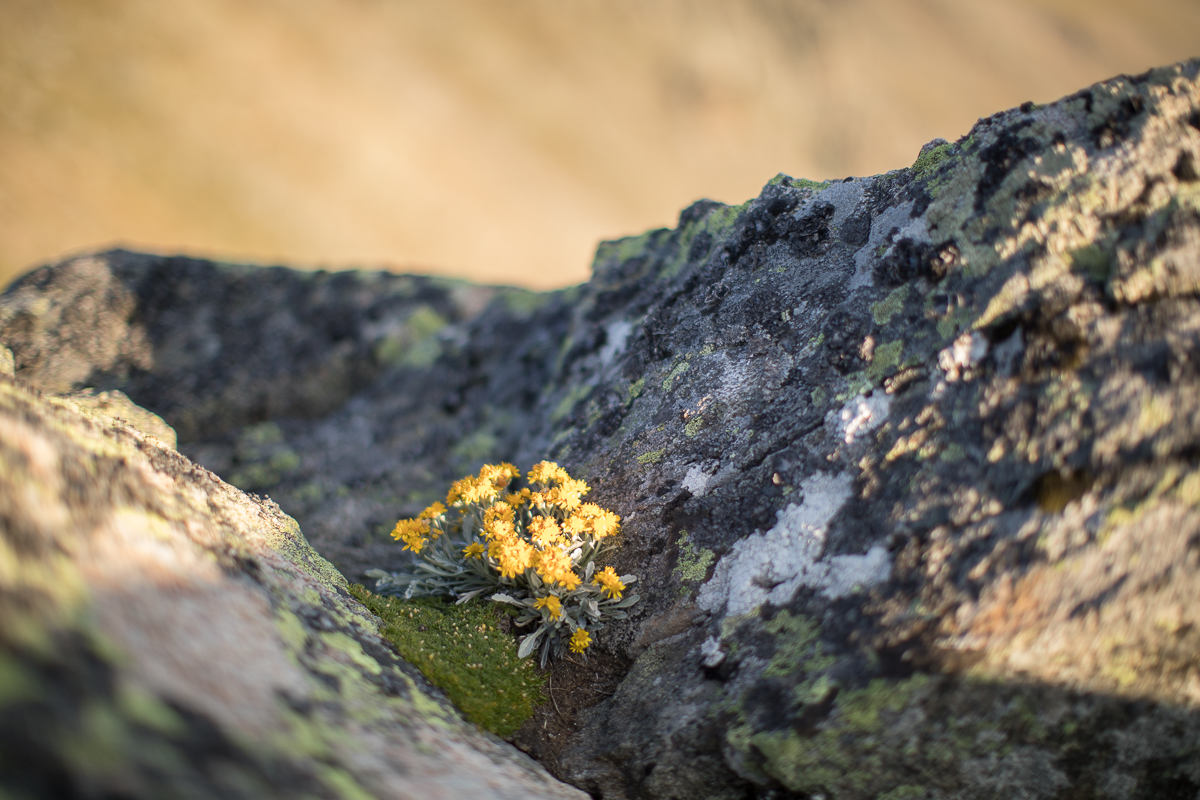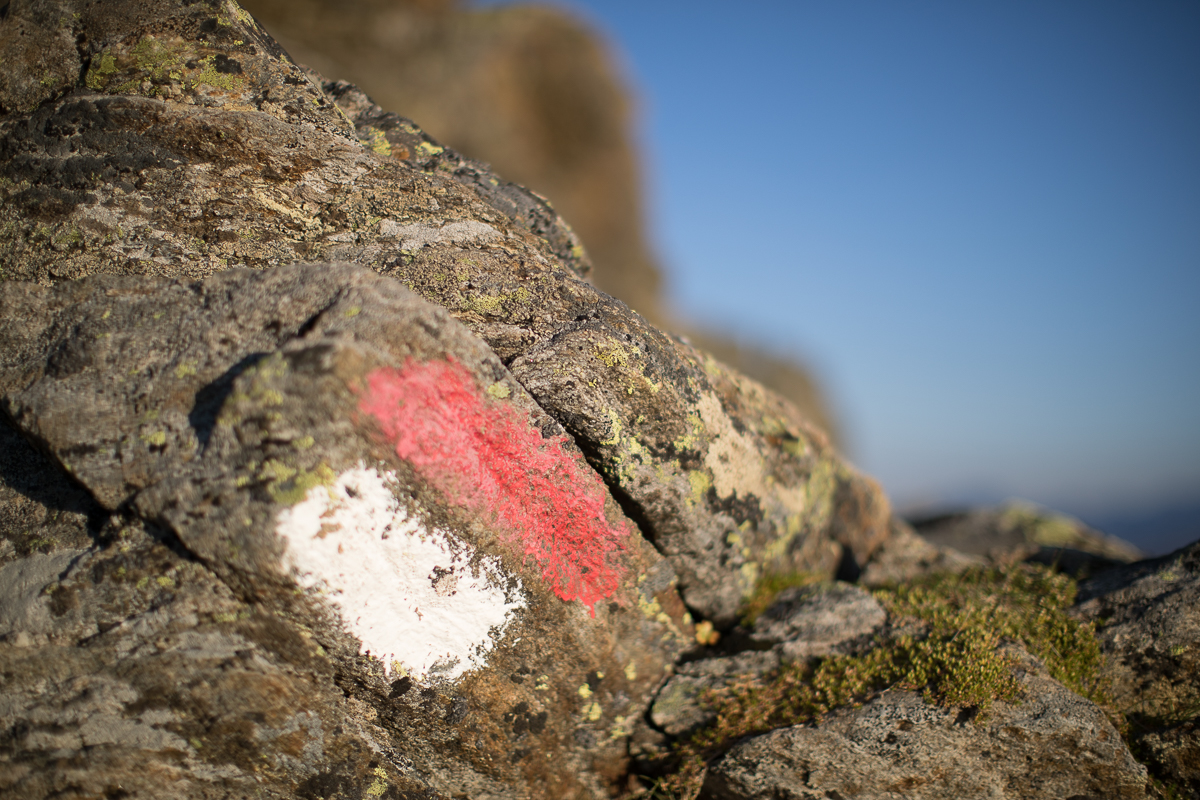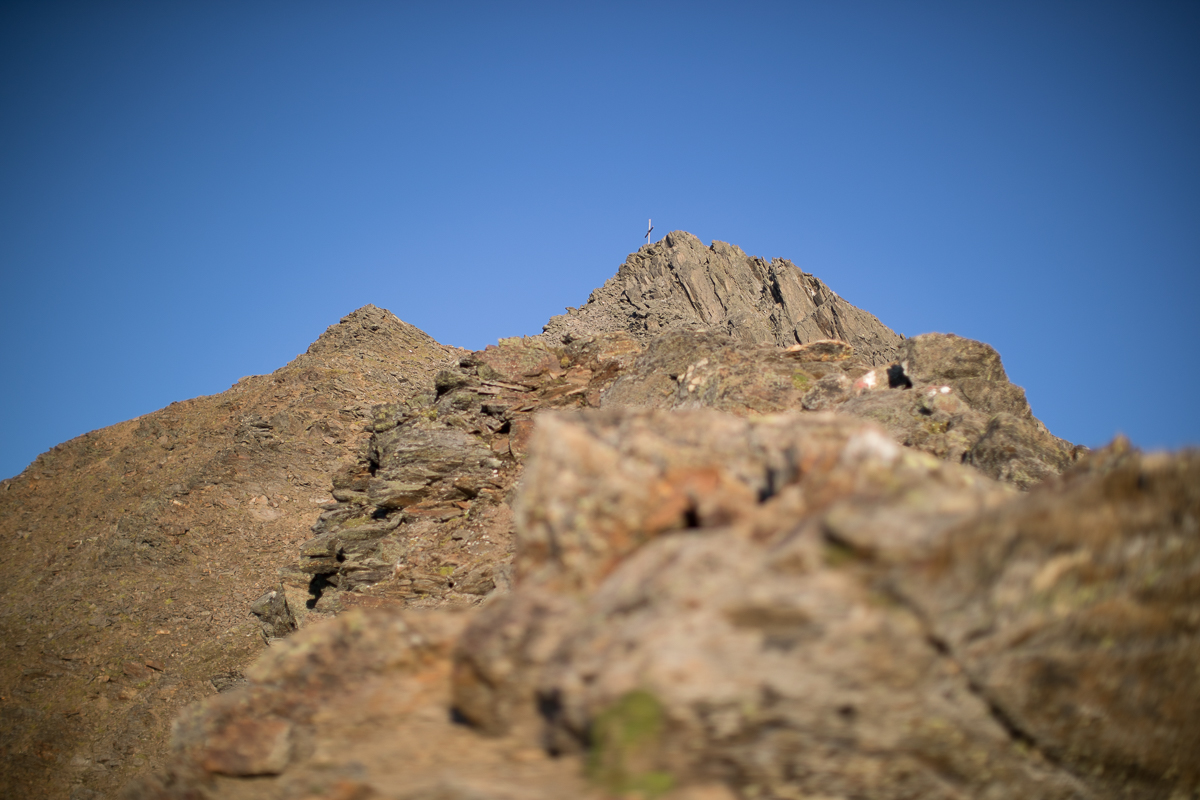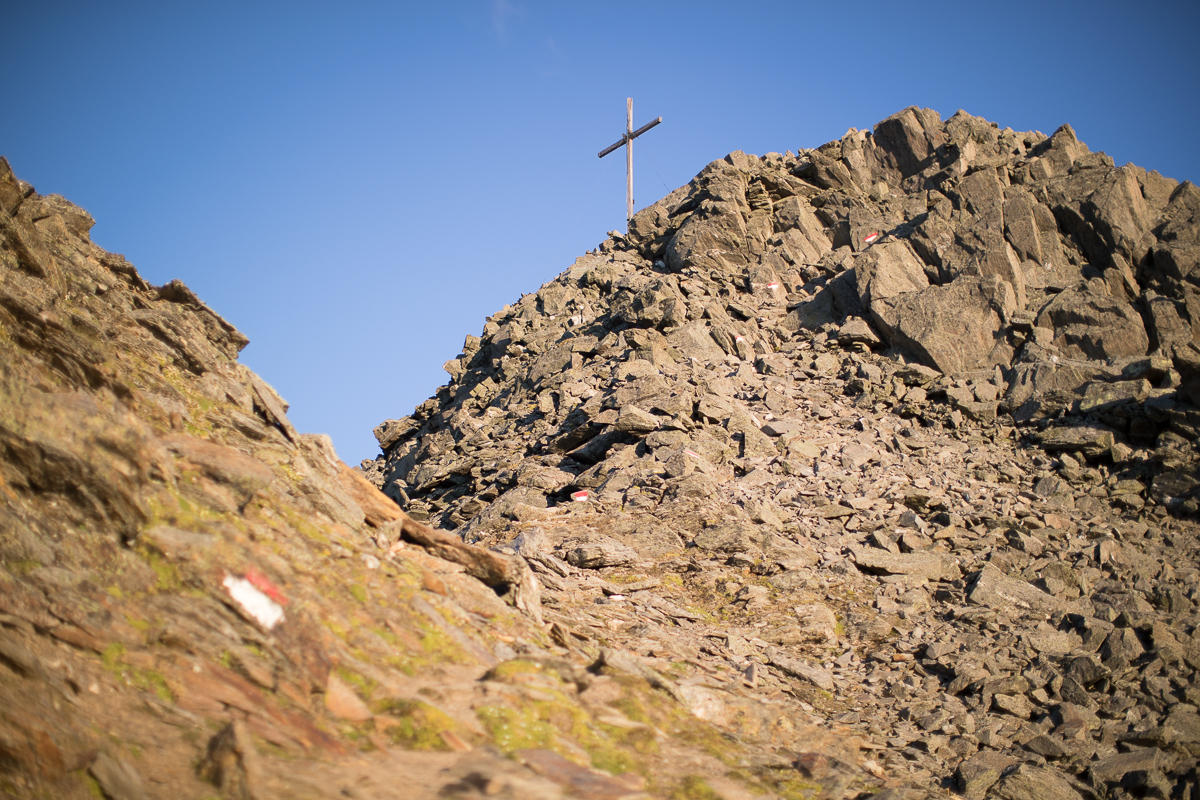 I enjoyed the trail on the ridge very much. The view was breathtaking and it was only slowly ascending, for now... I could feel the air getting thinner now. Breathing became harder and i was exhausted faster and faster. I had to concentrate now. It was not a very hard trail but nevertheless you had to be sure you have a good stand because IF you would fall it would be a long way down....
The cross was coming nearer and nearer now and even though i was very exhausted, the feeling to almost reach the top gave me enough power for the last 50 height-meters.
I turned around to see where my companions are and saw them in the distance looking smaller then i expected. The last ascension was more climbing then hiking so i left my hiking sticks down to have my hands free. A final application of power later i stood on the top, next to the cross. Totally exhausted but very happy.
I quickly changed my clothes because i was totally sweat-stayned and didn´t want to catch a cold. I had to hurry now, the sunset was not too far anymore. So i looked for a nice place and set up my tripod. I changed the lens to my 11-24 ultrawide lens and began to take some nice sunset-shots.
Nick and Tina arrived in the meantime too. While Tina again looked after the dogs and searched for a nice resting-place on the small summit, Nick quickly set up the drone again to take some breathtaking clips of the overwhelming red sunset.
While i was, as always, taking shot after shot in all possible directions, hoping not to miss anything photographable, Nick landet his drone and with the coolness of the professional packed his stuff, changed his clothes and went to have a long rest. When i asked him a little perplexed what he planned to do, he just told me that he will wait for the astronomical twilight, to do "THE PANORAMA" . I hope one day i will have this much self-confidence to do only one picture after a 1000m hike and just be sure to make no fault.
I took some panorama-shots in the twilight and when the first stars began to shine set up my stuff for some startrail-pictures. While the trail-shoot was running, i joined Nick and Tina and had a rest too.
We enjoyed the upcoming stars, and with them, the milkyway rising in the darkness, before we talked about what stood on the plan. Nick wanted to do a panorama on the east side of the cross, while i planned another one, where the cross would be in the focus of the picture, the milkybow right over it. After i did my best to assail nick with my questions about multiple-row panoramas and how that has to be done, i decided to try it for the first time.
It took quite some time to take all the shots necessary for the pano. Nick was allready done and ready to go when i started to set up my startracker to make some more milkyway shots. About half an hour later i had enough and so i began to pack my stuff and prepared for the descent.
The way down in the dark is always like a totally different tour for me. Everything looks different in the shine of the headlamps, maybe because you have to concentrate on the small lightbeam. So i started first, Nick and Tina followed with the dogs. It prove difficult for them on the part direct under the summit to look after the dogs AND the difficult trail. So i was relativ fast, which gave me the chance to take a short night-clip with my mobile.
After i picked up my walking sticks again i moved to the saddle on my own to keep concentrated on the difficult ridge. I waited for Nick and Tina there, and changed the jacket, ´cause down on the saddle it was noticeable warmer then on the summit.
I went downwards quite fast for my circumstances, maybe because all of my water was finished and everything i brought up was eaten, thats why i was about 2.5kg lighter now.
The rest of the way was problem-free most of the time, the only thing, from time to time, was to find the trail again in the light of my headlamp when we had to leave it because of sleeping cows. But the superbright headlamps of my companions always found the waymarks fast. On the last kilometer, my backpack began to hurt and i was really happy to finally reach the car. Thank god i was NOT the one to drive home now, so i fell asleep in the car asap.
I want to thank Tina and Nick on this place for this great mountain-tour. And for all the other tours before, which they made possible for me. I am very proud now, every day i look up to the summit of the Rietzer Griesskogel, knowing to have been there. AND i am totally happy that i have made one of my best milkyway-panoramas ever on this tour.